High quality keychains model exclusive, shaped mini-guitars, mini piano, drums stick, mini violin and Fado. They are scale replicas inspired by the real instruments that have made the history of music from the '60s to today. Our collection of modern keychains is composed by more than 100 fantastic's models. This keyrings are hand made and hand air brushed by skilled craft people. These mini instruments keychains replicas are original gift ideas and a MUST for all the music fans and lovers. Our wonderful mini instruments are worldwide supplied, you can find them in: music shops, musical instruments shops, gift and souvenir shops, bookstore, stationery, E-shops, EBay, Amazon...
...
Guitars, piano, drums stick, violin shaped Keychains: model exclusive.
material: Balsa wood
hand made and hand airbrushed
keychain size cm: 3,5 x 10 x 0,5 approx.
package size cm: 5,5 x 10,5 x 0,5
package weight gr: 8 approx.
Retail packaging with label and barecode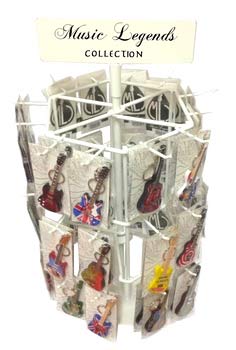 This keychains are great as concerts and events merchandising, promotional marketing, personalized Keychain, custom Keychain,
all is possible
!


MLC your reliable source for Wholesale mini-guitar replica, collectibles music gadgets and premium pvc bag's. All of our hand-crafted mini-guitars, music gadgets and bag's are in stock and ready to ship today, to anywhere in the world! If you would like to become a distributor or reseller of the official MLC gadgets we would like to hear from you! For further details, please contact us to: mlc.imp.exp@gmail.com
Feel free to download our catalog and pick your selection in our wonderfull range of music gadgets with up the 750 items
by clicking here