The guitar-shaped shoulder bags are all inspired in forms and designs by the real guitars and styles that have shaped the history of music Rock, Hard rock, Metal, Jazz, Blues, Punk and Pop from the 60's to date. These guitar Bag is a perfect addition to your lifestyle. Each shoulder bag is made of premium eco leather (PVC), has a large internal space with a zip closure system with an adjustable shoulder strap. The bags are unisex and can be worn either by young or older people. These music-themed bags make great gifts for musicians, teachers, students & music lovers. They are fully customizable and are great gifts for rewards, corporate gifts, concerts, merchandising & promotional marketing. Wear music, wear rock,
Guitar-shaped bag specifications:
Bag size cm: 31H x 21L x 6,5P (approx.)
Bag weight gr: 280.
Bag internal capacity Lt: 4 (approx.)
Material: PVC - 420D (synthetic leather-nylon)
Technology: HD 3D Laser print.
Water resistant.
Label, tag, barcode & personalized packaging available upon request.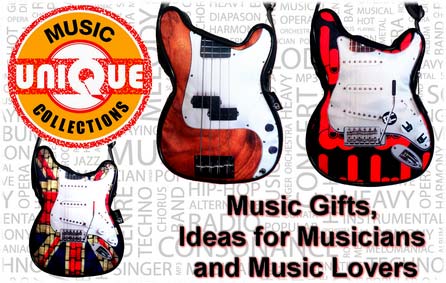 We create simple and personalized gift items. All our music themed gifts are customizable and are great for concerts, events, rewards, corporate gifts, music merchandising & promotional marketing:
everything is possible
!
Any of our collections can be truly made one-of-a-kind with additional conservation services, custom-printed creations, specific shapes & material requests… We pride ourselves on design creativity and unicity and make sure our customers always experience a wonderful delivery service. To know more about our custom music gifts thank you to
click here
.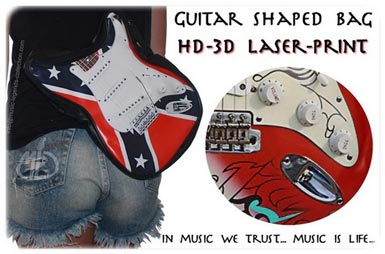 MLC, your reliable source for wholesale music gadgets, music-themed bags & and much more with musical designs. Our Gifts for Musicians and Music Lovers are in stock and ready to be shipped by today, anywhere in the world!
Would you like to enter into our sale network? A welcome discount
-10%
is waiting for new customers! No minimum order! Free to order what and how you want. Please contact us by
clicking here
or
download the catalogue
now and pick your selection in our wonderful range of music gadgets including more than 1000 items.